The First day Monday September 22nd is the "Flair Trick Contest" "FAST Tender Accuraccy Round" and Qualifying Flair rounds. The second day Tuesday September 23rd is the Finals. Along with Tandem Flair and the Mixology Contest, this event will be full of fun, Flair and features. Join us for the "Summer Flair Bartender Competition 3" at Club Safari September 21st - 23rd 2008.


Hosted by Rob Husted, BarWars L.L.C. and Flairbar.com.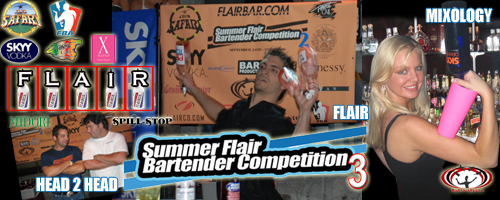 Doors open to the Public at 8:00 pm.

"Summer Flair Bartender Competition 3" on September 21st - 23rd 2008.

Flairbar.com will be there with complete coverage of the event. All Competitors need to be at Club Safari no later then 6:00 pm on Sunday September 21st 2008. All Details are on BarWars.info. For registration contact Rob Husted at: rob@barwars.info.
Registration is $200.00 for FBA Advanced Division and $250.00 for the FBA Pro Division. Registration includes 3 night stay dual occupancy at the SFBC3 Host Hotel Marriott in Plam Beach Gardens, Florida!
This contest is brought to you by BarWars L.L.C., Flairbar.com, Club Safari, SKYY Vodka, Finest Call, Midori, X-Rated, Tyku, Marriott Hotels, Bar Products, Spill-Stop, Flairco, Rock & Record and the FBA.