Summer Flair " is shaping up to be a huge event with alot of other events coinciding with it as well. First off the new "Mixology Matters! Cocktail Conference" during the day of the Summer Flair 4 finals on Tuesday September 22nd is "Helping bring the craft of the cocktail and the art of Flair bartending together". Bringing Mixologists, Brands and Flair Bartenders all under one roof for some drinks and an exchange of ideas. Complete with Seminars, Samplings, Contests and more. Along with that... Pernod Ricard has paired up one of their huge events along with us as well... Absolut Top Bartender, a bartender reality show got picked up for their second season on NBC airing on Saturday Nights after "Saturday Night Live" in November... great exposure along with their giving away $100,000 to the overall winner! Awesome!
The official Kick-Off Party for Absolut Top Bartender will be Sunday September 20th after the Summer Flair 4 Meet & Greet inside "Club Safari" the host venue for our event. On top of that the people from Penod Ricard mentioned there will be cameras from NBC filming the weeks events for extra footage. On Wednesday, after the Summer Flair 4 finals, Pernod Ricard is charting a bus from "Club Safari" to Miami for the auctual Miami audition for the show Absolut Top Bartender. Out of everyone that auditions, 30 will be called back the next day Thursday for the final audition, where according from Pernod Ricard, from those 30 bartenders... 4 are guaranteed to be on the show!



Hosted by Rob Husted, BarWars L.L.C. and Flairbar.com.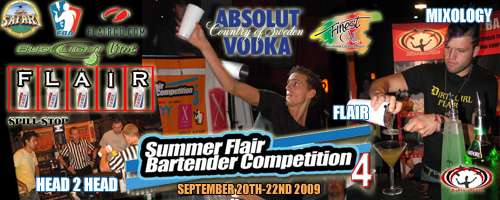 Doors open to the Public at noon on Tuesday September 22nd for the "Mixology Matters" Cocktail Conference.

"Summer Flair Bartender Competition 4" on September 20th - 22nd 2009.

Flairbar.com will be there with complete coverage of the event. All Competitors need to be at Club Safari no later then 6:00 pm on Sunday September 20th 2009. All Details are on BarWars.info. For registration questions contact Rob Husted at: rob@barwars.info. All other questions please refer to the FBA Message Board or Mike Mclean at mike@flairco.com.
Registration is $350.00 for FBA Advanced Division and $400.00 for the FBA Pro Division. Registration includes 3 night stay dual occupancy at the SFBC4 Host Hotel Marriott in Plam Beach Gardens, Florida! There will be a $25.00 fee excessed for non FBA Premium members. There will be no videotaping allowed during finals!
This contest is brought to you by Absolut Vodka, Finest Call, Budweiser, Club Safari, Marriott Hotels, Bar Products, Spill-Stop, Flairco, Rock & Record, USBG, FBA, BarWars L.L.C. and Flairbar.com.